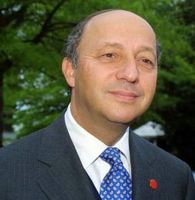 Regardez-le,
Exactement
vingt ans après
avoir signé comme Premier Ministre de l'époque l'ordre de paiement des frais de l'opération des services secrets visant à couler avec deux mines magnétiques le navire de
Greenpeace
"Rainbow Warrior"
dans le port d'Auckland en Nouvelle Zélande,
Laurent Fabius s'est allié à nouveau avec les forces xénophobes
pour couler, cette fois-ci, la
Constitution Européenne
, un projet vraiment pas pire que tout ce qu'il a commis lui-même au long de sa carrière (ceci est un euphémisme).
Look at him,
Exactly
20 years after
having signed, as Prime Minister at the time, the order to pay the expenses of the French secret service operation to sink with two limpet mines the
Greenpeace
ship
"Rainbow Warrior"
in Auckland harbour, New Zealand,
Laurent Fabius has made again an alliance with xenophobic forces
, this time to sink the
European Constitution
, a project really not worst than everything this man has committed throughout his carrier (this is an understatement).
Mirenle,
Exactamente
20 años después
de haber firmado como Primer Ministro de la época la orden de pago de los costes de la operación de los servicios secretos franceses para hundir con dos minas magnéticas el barco
"Rainbow Warrior"
de
Greenpeace
,
Laurent Fabius se ha aliado de nuevo con las fuerzas xenófobas
, esta vez para hundir la
Constitución Europea
, un proyecto realmente no peor que todo lo que él mismo ha cometido a lo largo de su carrera (esto es un eufemismo).