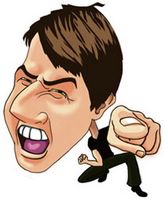 There is a lot of talk about
Corporate Social Responsibility
, but not so much about Cultural Social Responsibility.
Many icons from the entertainment industry are
role models,
especially for the youth. But these guys are rarely held accountable when they are driving their followers into danger zones.
Tom Cruise, the most visible face of
Scientology
is a case in point. This guy should not be allowed to promote what is known to be a destructive sect.
As the father of a 13 year old little girl, I welcome the website
Tom Cruise is Nuts
! It's great, it sets the record straight, and it's funny! Check it out.
And spread the word:
Tom Cruise is a total nutcase!
This guy completely turns me off. The other day I read an interesting interview of Steven Speilberg in
Le Monde
, about his latest film; I found the interview was interesting, but only the thought of watching this nutcase for 2 hours turns me off. No way I'll go and see that film.
DJ
and his group who have authored the
Tom Cruise is Nuts
website are great agitators: check out too their website on
Karl Rove
.