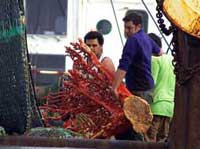 There is a new story today, on the website of the Deep Sea Conservation Coalition,
"Confusion surrounding Spanish position"
. A good and useful complement to yesterday's
BBC story
about the UN debate over a moratorium on high sea bottom trawling due to start today at the UN.
It contains the exact text (referred to by the BBC yesterday) where the Spanish Fisheries administration recognizes explicitely the environmental harm caused by bottom trawling to vulnerable marine ecosystems:
"
Bottom trawling on the Patagonian shelf will continue to be permitted according to the more than 20 years existing scientific reports that prove that these fisheries are not carried out on vulnerable ecosystems. In the event that vulnerable ecosystems had been located in this fishing area, they would now be gone due to past trawling"
. [emphasis added]
The story contains a thorough analysis of what can be seen as
progress
on the part of the Spaniards, and what can be seen as
stalemate.
Consistent with this statement, the piece suggests that
"at a minimum the Spanish government should now agree to a UN General Assembly resolution calling for an immediate stop to high seas bottom trawling on vulnerable ecosystems, including seamounts, hydrothermal vents and cold water corals."
Soon we will know.