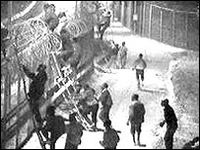 With the increased intensity of the drama at the Morrocan-Spanish border in Ceuta, between the authorities and sub-saharean refugees looking for a heaven, the press talks a lot this week of
Médecins-sans-Frontières'
report about the situation there.
Worth reading or bookmarking:
in English
or
en español
.
"Although this drama has become somewhat commonplace, its backdrop – tainted with violence, dissuasion, exclusion and exploitation, makes it one of the most alarming phenomena in current times. It is characterised by the use of extremely violent dissuasive measures, seen in both national border control policies and the European border shutdown strategy. It [is] also linked to the vested financial interests of human-trafficking networks or of common criminal groups."
Abstract from MSF's
"Violence and Immigration - Report on illegal sub-Saharan immigrants (ISSs) in Morocco"